Ceremony
---
Attire
A cap and gown will be provided for you to wear. Attire under your gown should be appropriate to honor the dignity of the ceremony. Business wear is a safe choice. "Dressy casual" is also appropriate. Jeans, hoodies, sweatpants, sweatshirts, shorts, flip-flops and tennis shoes or sneakers are not appropriate.
Other tips-
Consider wearing something with pockets to carry your keys. Leave purses and wallets in the car. Dress for the weather Wear footwear that is appropriate for the formality of the event, but also comfortable as you will cover quite a distance and need to stand for long periods of time. Bobby pins can assist in keeping your mortar board (cap) secure. Hang your gown in a steamy bathroom while taking a hot shower or smooth over with a warm iron to remove wrinkles. Do NOT get the iron too hot, as the fabric will scorch easily and may create holes.
Line-up
Please arrive for line-up with your cap/gown/tassel on. Graduates will line-up alphabetically in front of Geyer Hall at 8:15 AM (morning ceremony) or 12:15PM (afternoon ceremony). When graduates arrive, they should line up according to the instructions provided by staff at Geyer.
IF there is violent weather, graduates will line up on the walking track in Ketcham.
Seating
Please see image below regarding seating. NCMC staff will be available inside the auditorium to assist guests. There will also be seating in the upstairs area, although areas of the walking track will be blocked.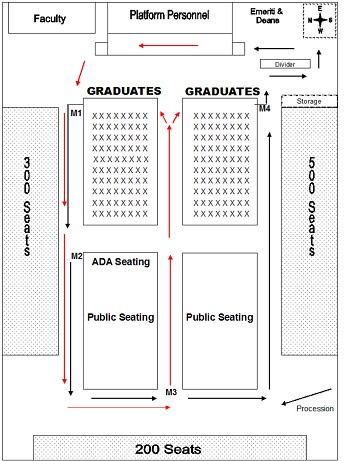 Platform
The Platform Party consists of representatives from across the institution.  They may include: the Board of Trustees, the President, the Keynote Speaker, Vice President of Institutional Effectiveness, Dean of Student Services, Director of Nursing and Health Sciences, Dean of Instruction, Student Senate President, Faculty Senate President, Administrative Professional President, and Classified Staff President.
The Platform Party should robe in the President's Office in Frey Hall at approximately 8:15AM (Morning Ceremony) or 12:15PM (Afternoon Ceremony).  The march will begin at 8:45AM (Morning Ceremony) or 12:45 Ceremony).  At the conclusion of Commencement, please place all academic regalia in the bag in which it was received and return to the President's Office.
Marshals
Marshals are faculty members who assist in leading students during the March and provide guidance during the ceremony. There are two Processional Marshals and two Recessional Marshals. Marshals are selected by the Faculty Senate and serve in a place of honor during the ceremony.
Marshals should report, in academic regalia, to the front of Geyer Hall at 8AM (Morning Ceremony) or 12PM (Afternoon Ceremony) on Commencement day. Marshals will assist in lining-up students according to degree and in alpha order of last name. "Ceremony, Line-up" provides additional information regarding this process. After the graduates have lined-up, name cards with degrees will be distributed to each of the graduates. They will need to provide this card to the announcer during the ceremony, so should be reminded not to leave their card on their chair when they leave to walk across the stage.
Faculty
Full-time faculty is present during the Commencement Ceremonies. Faculty should report to the Rider Art Gallery in Frey at 8AM (Morning Ceremony) or 12PM (Afternoon Ceremony) to robe and prepare for the Commencement march. Human Resources will distribute academic regalia before this time..
If you earn additional degrees or are a new faculty member, please contact the Human Resources Director. They will need additional information.
Medical issues
Emergency medical assistance will be on stand-by during the Commencement Ceremony. If you or one of your guests is not feeling well, they should report to the lobby area of the Ketcham Community Center. A staff member can assist them in contacting emergency personnel, if needed.
Emergency Plan
If any member of the campus community or visitor becomes aware of an emergency situation during the Commencement ceremony, they are encouraged to contact any College staff member to initiate the College emergency and crisis response plan.
AMP support
Commencement is our most important celebration at NCMC! In support of our students and to recognize their accomplishments, as well as welcome family and friends, the Administrative Professional (AMP) Staff assist with the Commencement ceremony.
A huge thank you to the AMP staff who assist our students throughout the year, as well as help make Commencement a very special day!
| | |
| --- | --- |
| Platform | Will have on academic regalia and be a part of the procession, platform and/or front of house area.  Report to Frey at 8:15AM (Morning Ceremony) and 12:15PM (Afternoon Ceremony) (KCC for rain) |
| IT needs (Music, microphones, etc) | Double check sound system and music.  Have recorded national anthem and music selection on-hand.  Play music prior to ceremony.  Start Pomp and Circumstance music at procession and recession, make sure microphones continue to work, confirm TVs in Sugg are working and address any technical concerns.  Know event emergency procedures and location of emergency personnel during event. Report to KCC at 7:45AM (Morning Ceremony) and 11:45AM (Afternoon Ceremony) |
| Announcer | Read pre-ceremony announcements and names of each of the graduates as they walk across the stage.  Report to KCC at 7:45AM (Morning Ceremony) and 11:45AM (Afternoon Ceremony) |
| Geyer Director | Directs Geyer staff, to include: assist with alpha line-up of all graduates prior to the ceremony, confirm line-up in appropriate category and side of Geyer, per line-up procedure (may change yearly), assist with correct academic regalia dressing.  Confirm Student Senate President has their name card.  Report to Geyer at 7AM (Morning Ceremony) and 11AM (Afternoon Ceremony) |
| Geyer | Assist with alpha line-up of all graduates prior to the ceremony, confirm line-up in appropriate category and side of Geyer, per line-up procedure, assist with correct academic regalia dressing.  Report to Geyer at 7:30AM (Morning Ceremony) and 11:30AM (Afternoon Ceremony) |
| Programs | Hand out programs to guests.  Return excess programs to Lobby Director.  Confirm programs are on graduates, faculty, and platform party seats.  Know event emergency procedures, location of emergency personnel during event, and how to contact. Report to KCC at 7:15AM (Morning Ceremony) and 11:15AM (Afternoon Ceremony) |
| Lobby/Program Director | Directs program and lobby staff, to include: handle flow of lobby traffic, stop traffic into auditorium during procession, prevent east door entrance into auditorium, in case of rain – clear entrance for procession from track and Sugg. Make sure programs get returned to Registrar for mailings to students who could not attend. Make and hang posters regarding "Please silence all cell phones" and in men's bathroom to prevent exiting near platform. Know event emergency procedures, location of emergency personnel during event, and how to contact. Report to KCC at 7:00AM (Morning Ceremony) and 11:00AM (Afternoon Ceremony) |
| Lobby | Handle flow of lobby traffic, stop traffic into auditorium during procession, prevent east door entrance into auditorium, assist individuals who need to use the elevator.  Know event emergency procedures, location of emergency personnel during event, and how to contact.  In case of rain – clear entrance for procession from track and Sugg . Report to KCC at 7:15AM (Morning Ceremony) and 11:15AM (Afternoon Ceremony) |
| Upper deck /Red Seat Director | Directs upper deck and red seat staff, to include: handle flow of upper deck traffic, prevent unauthorized entrance onto prohibited sections of track, help people find seats, monitor upper deck and red seats to assist anyone that may need medical attention, prevent noise-making devices, disruptions to ceremony, etc.  During the ceremony, ask guests using cell phones to move out of the building or end the call.  Know event emergency procedures, location of emergency personnel during event, and how to contact. Report to KCC at 7:15AM (Morning Ceremony) and 11:15AM (Afternoon Ceremony) |
| Upper deck/Track | Handle flow of upper deck traffic, prevent unauthorized entrance onto prohibited sections of track, help people find seats, monitor upper deck to assist anyone that may need medical attention, prevent noise-making devices, disruptions to ceremony, etc.  During the ceremony, ask guests using cell phones to move out of the building or end the call.  Report to KCC at 8:15AM |
| Red Seats | Handle flow of red seat traffic, help people find seats, monitor red seats to assist anyone that may need medical attention, prevent noise-making devices, disruptions to ceremony, etc.  Know event emergency procedures, location of emergency personnel during event, and how to contact. Report to KCC at 7:15AM (Morning Ceremony) and 11:15AM (Afternoon Ceremony) |
| Auditorium Director | Directs auditorium staff, to include: handle flow inside auditorium, assist those parties needing special assistance with seating, monitor graduate, faculty and Emeriti seats to make sure no one sits in them, monitor auditorium to assist anyone that may need medical attention, prevent noise-making devices, disruptions to ceremony, etc.  Monitor area under bleachers.  Know event emergency procedures, location of emergency personnel during event, and how to contact. Report to KCC at 7:00AM (Morning Ceremony) and 11:00AM (Afternoon Ceremony) |
| In auditorium, assisting traffic flow/ADA needs | Handle flow inside auditorium, assist those parties needing special assistance with seating, monitor graduate, faculty and Emeriti seats to make sure no one sits in them, monitor auditorium to assist anyone that may need medical attention, prevent noise-making devices, disruptions to ceremony, etc.  During the ceremony, ask guests using cell phones to move out of the building or end the call.  Monitor area under bleachers.  Know event emergency procedures, location of emergency personnel during event, and how to contact. Report to KCC at 7:15AM (Morning Ceremony) and 11:15AM (Afternoon Ceremony) |
| In auditorium, assisting with photography area | Inform those seated prior to event that this will be a high traffic area.  Assist with traffic during "degree walk" to keep march moving. Know event emergency procedures, location of emergency personnel during event, and how to contact. Report to KCC at 7:15AM (Morning Ceremony) and 11:15AM (Afternoon Ceremony) |
| Assist with name cards/speaker | Have second set of name cards to hand to graduates, in case they lose or forget their cards on seats, make sure the podium has a water bottle for the speaker.  Will need to sit behind divider. Know event emergency procedures, location of emergency personnel during event, and how to contact. Report to KCC at 7:15AM (Morning Ceremony) and 11:15AM (Afternoon Ceremony) |
| KCC West door | Greet guests.  Provide smoke free reminder and direct smokers to appropriate location. Know event emergency procedures, location of emergency personnel during event, and how to contact. Report to KCC at 7:15AM (Morning Ceremony) and 11:15AM (Afternoon Ceremony) |
| Southwest door – Provide access to processional only | Monitor southwest door to make sure guests do not enter.  Monitor procession and hold door open for procession and recession.  Monitor area to make sure it is clear for recession.  If there are students unable to walk from Geyer, make sure they get in correct order as line-up files through door.  Know event emergency procedures, location of emergency personnel during event, and how to contact. Report to KCC at 8:00AM (Morning Ceremony) and 12:00PM (Afternoon Ceremony) |
| Troubleshoot | Assist with any needs prior to the ceremony, troubleshoot issues, monitor ceremony, provide any special assistance, as needed, and work with EMTs if necessary.  Know event emergency procedures, location of emergency personnel during event, and how to contact. Report to Geyer at 7:00AM (Morning Ceremony) and 11:00AM (Afternoon Ceremony) |
| Traffic | Work with Trenton Police and Randy Young to block off street, monitor traffic, and handle parking.  Pull cones across interest to ADA parking, once full.  Monitor parking at least ½ hour into the ceremony to make sure no one parks others in.  Make sure signage is in place.  Know event emergency procedures, location of emergency personnel during event, and how to contact. Report to KCC at 7:00AM (Morning Ceremony) and 11:00AM (Afternoon Ceremony) |