Our College
---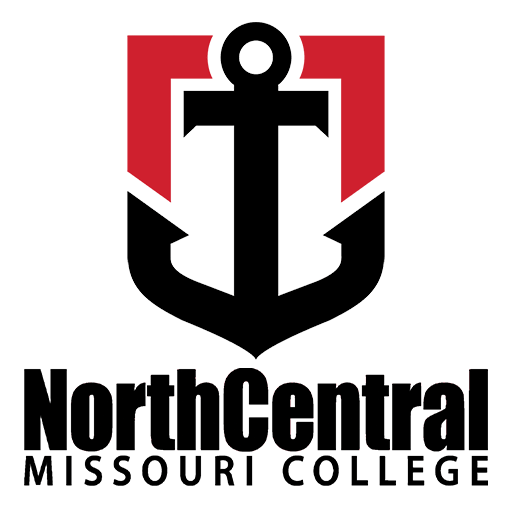 NCMC History
North Central Missouri College is located in a community that has long valued the benefits of higher education, as college opportunities have been a tradition in Grundy County for more than 150 years. Grand River College, organized in 1850, was the first school west of the Mississippi to open its doors to women. The second institution, Trenton College, opened in 1867, and it was followed by Avalon College in 1890. Ruskin College, organized by Englishman Walter Vrooman, became the center of a socialistic educational experiment in the Trenton area. All these early institutions are defunct.

North Central Missouri College, formerly Trenton Junior College, was founded in 1925 and is the second oldest publicly-supported community college in Missouri. At its inception, it was part of a K-14 education system operated by a joint Board of Education/Board of Trustees and a school superintendent/college president.
For more than 40 years the College was located on the top floor of Trenton High School in a building located on East Ninth Street in Trenton. The College shared facilities, administration and staff with the high school in that building, but in 1967 the College moved to the former Central School Building on Main Street near downtown Trenton. That building is now known as Geyer Hall.

Trenton Junior College officially became an independent entity by action of the voters at a municipal election in April 1986, and its first Board of Trustees was sworn in and seated in July 1986. In July 1988, the College's name was changed to North Central Missouri College to better reflect its mission to serve all the citizens in its assigned 16-county service region in northwest Missouri.

Today, North Central Missouri College continues to exemplify the values of higher education traditionally important to the citizens it serves. September 2025 will mark its 100th anniversary.
NCMC Facilities
Official separation of the College from the Trenton R-IX school system served as the catalyst for rapid growth in the size of North Central Missouri College's physical plant as course offerings and the student body grew exponentially in the mid-1980's. Today, NCMC boasts three education centers: its Main Campus in downtown Trenton, the Barton Farm Campus one mile south of Trenton, and a new Extended Campus located in Andrew County, Missouri.
Main Campus
Geyer Hall
NCMC's flagship classroom building, the old Central School, was renamed Geyer Hall in the 1980's and totally renovated in 2016. Today it contains technology-equipped classrooms, the Learning Commons (consisting of the college library and the Student Success Center), and various administrative offices. The O.G. Sanford Clock Tower above the front entrance, named in honor of the College's first president, and the ship's anchor south of Geyer Hall are campus landmarks. On the east side of Geyer Hall, the Bert and Rose Hoover Memorial Quadrangle is a beautifully landscaped central green, a perfect spot for outdoor arts programs, student activities and other special events.

Hoffman Hall
Hoffman Hall, named in honor of members of the Hoffman family integral in the founding of Trenton Junior College, was the first new building constructed for use by the College. It was opened in the mid-1980's. Hoffman Hall houses classrooms, computer and science labs, and faculty offices. A recent expansion doubled the size of the building and it now provides access to Cross Hall.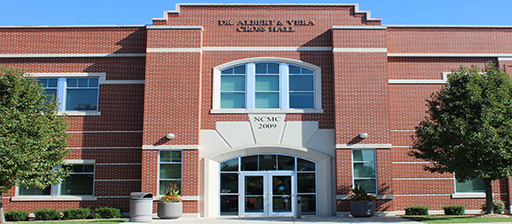 Cross Hall
Dr. Albert & Vera Cross Hall was dedicated in 2009 and is located on the northwest corner of the Main Campus. It is home to the Allied Health and Life Sciences Department. The Senator Christopher S. Bond Sciences Lab on the first floor is a state-of-the-art simulation lab providing hands-on training for allied health students. Cross Hall Coffee Shop, also on the first floor, is a common hangout for students and members of the local community. Dr. Albert Cross, an area physician, provided substantial donations to support construction of this building.

Building B
Building B, on Crowder Road north of Cross Hall, is home to NCMC's art department.

ASC
The Willis Alexander Student Center, just south and east of Geyer Hall, was added to the campus in the 1990's. The Alexander Student Center is a one-stop center for most student-related services including offices for the Dean of Student Affairs as well as Admissions, Advising, Testing, Financial Aid, Registrar, and Student Housing. The lower level has a large conference room and testing and meeting rooms.

Bookstore
NCMC Bookstore, across the street east of Geyer Hall, offers textbooks, classroom supplies, college apparel, health care uniforms and general merchandise for students and the public.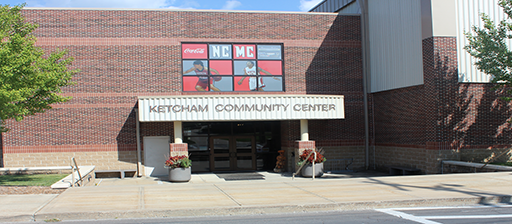 KCC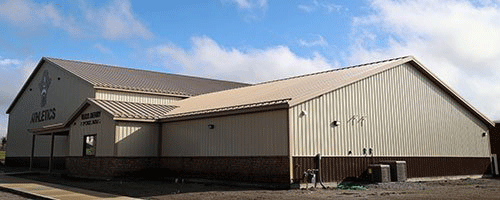 Russ Derry Baseball/Softball Training Facility
Tennis Court
The Lloyd and Margaret Ketcham Community Center, completed in the spring of 1998, holds a collegiate gymnasium, cardio room, up-to-date exercise equipment, walking track, locker rooms, a training room, coaches' offices, and meeting rooms. This is the site for NCMC's basketball games, physical education classes, and community activities and events. Commencement ceremonies are held annually in the Ketcham Community Center. The adjacent Russ Derry Baseball/Softball Training Facility is an indoor hitting/training facility for NCMC's baseball and softball programs, and outdoor tennis courts are also near the KCC.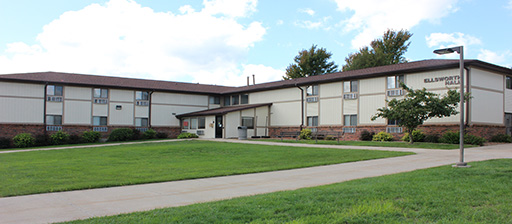 Ellsworth Hall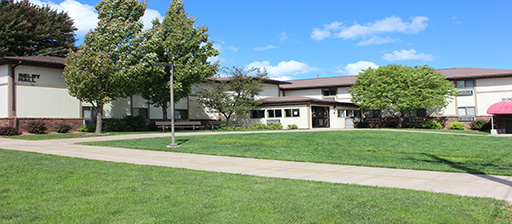 Selby Hall
Two residence halls were added to the Main Campus in the 1990's. Ellsworth Hall, a residence hall for men, opened its doors in 1994, and Selby Hall, for women, was completed in 1997. Each student room has its own heating/air conditioning unit, sink, and service for electronic devices. Both halls have a large lounge/TV area and computer room, and a full-service dining facility on the lower level of Selby Hall is for students as well as college staff and members of the public.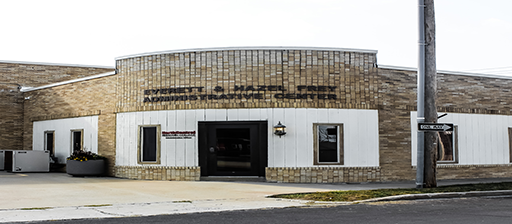 Frey Administrative Center
IT Services and Art Gallery
The Everett and Hazel Frey Administrative Center near the Ketcham Community Center houses the Information Technology department, the Business Office, and offices for Development/Foundation and Marketing, Public Relations, Human Resources and the NCMC President. The Dorris Rider Art Gallery is also in the Frey Administrative Center.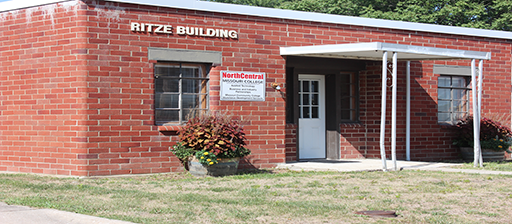 Ritze Building
Maintenance Building
Other buildings on the Main Campus include the Maintenance Building and the Dr. T.E. Ritze Building. The Maintenance Building, east of the Ketcham Community Center, houses department offices and workshop areas and is also the site for all the College's general deliveries. The Dr. T. E Ritze Building on Crowder Road directly north of Hoffman and Cross Halls serves as the center for NCMC's Business and Industry Department. Layson Hall, south of the Main Campus in downtown Trenton, contains administrative offices for the Workforce Development Board.
Barton Farm Campus
Elizabeth and Arthur Barton Farm Barton Campus
Whitley Natural Habitat Area and Hoffman-Robbins Shelter
The Elizabeth and Arthur Barton Farm Campus is one mile southeast of Trenton just off Highway 65. The property was bequeathed to the College by the late Arthur Barton and was used to establish a second college campus with an emphasis in agriculture. Opened in the fall of 2011, the Barton Farm Campus consists of more than 100 acres with three classroom/training buildings, grazing paddocks, row crop test plots/fields, and a two-acre pond with a fishing dock and shelter house.

Lager Laboratory of Plant and Energy Science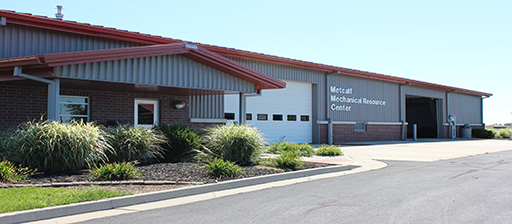 Metcalf Mechanical Resource Center
Kuttler Animal Science Facility
Classes in agriculture, natural resources, and industrial maintenance are taught in the Lager Laboratory of Plant and Energy Science, the Metcalf Mechanical Resource Center and the Kuttler Animal Science Facility. A wind turbine and a greenhouse are also located on the Barton Farm Campus. Livestock is purchased annually to provide students with real-life animal-handling experiences, and state conservation organizations often make use of the classroom facilities, pond, and shelter house.
North Belt Center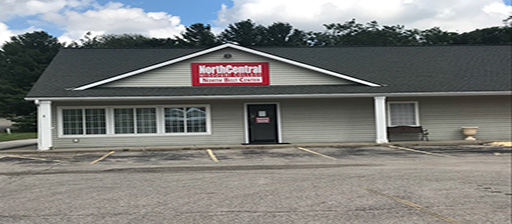 North Belt Center
The North Belt Center (NBC) is conveniently located at 6503 North Belt Highway, Country Club, Missouri. We are just one mile north of St. Joseph next to B & J Skate Center on the east side of the Belt. Our tuition and fees are the lowest in the Northwest Missouri region. If qualified, students can use their A+ scholarship to cover tuition and fees.
Students taking courses on campus at NBC can complete select Associate degree and certificates. Our courses are taught by instructors with not only quality educational credentials but also real world experience. We assure your success by offering small classes and personalized attention. The success of our students is demonstrated with a comparison of our retention and completion rates to those of other colleges in the state. NCMC is regularly ranked as one of the top ten in Missouri and the nation based on tuition and fees, completion rates, and starting salaries.
Our general education courses and Associate in Arts degree transfers seamlessly to other colleges in the state. Whether you are seeking a degree from NCMC or supplementing courses for Missouri Western State University or Northwest Missouri State University, we have a class for you. We look forward to assisting you with your academic goals.
Campus Locations