LEARN NEW SKILLS TO ENHANCE YOUR LIFE, BUSINESS, OR CAREER!
Community education courses are offered throughout the academic year and summer in a variety of topics. The courses are not taken for credit, but instead to enhance your skills or to learn a new skill. Topics range from yoga to learning Microsoft Office software to cookie decorating and everything in between. Community education courses typically have a small fee in order to register for the class. Courses are not taught by NCMC personnel or recorded on an NCMC transcript.
Adult education services are available to those who want to brush up their skills in reading, writing, and math. Also, HiSET prep is a part of the adult education services which can prepare you to complete the high school equivalency exam.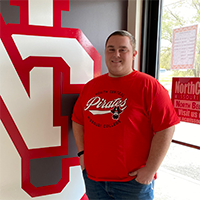 A PATHWAY FOR EVERY PIRATE
Choose from over 30 degree options in nine career and academic areas.