PROTECTING YOUR COMMUNITY IN MORE WAYS THAN ONE
Learn to be a critical thinker, ethical actor and competent communicator concerning matters of crime and justice at the local, state and national levels. Degrees in the Public Safety meta-major also provide a sound base to enter into a mental health profession. You will receive an educational background in psychology and the justice and legal systems. If you can picture yourself as a police officer or detective, or responding to an emergency, Public Safety is the academic pathway for you.
Save time and money when creating your schedule. View your course sequence and determine how long your degree will take to finish. Talk to your advisor to map out a plan that works for you.
Firefighter
Detective
Police officer
Social worker
Correctional officer
Private Investigator
Security guard
Gaming surveillance officer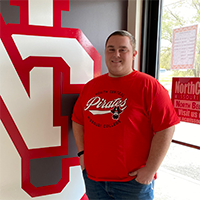 A PATHWAY FOR EVERY PIRATE
Choose from over 30 degree options in nine career and academic areas.