A RAPIDLY GROWING FIELD FOR CURIOUS MINDS LIKE YOURS
If complex problem-solving or concept engineering interests you, consider a degree in STEM (Science, Technology, Engineering, and Mathematics). Your first two years at NCMC in the Associate in Science degree program prepare you to enter a science or pre-professional program at a four-year college or university. This degree provides a foundation in general education with a concentration in standard sequences of science and mathematics courses required for 4-year STEM degrees.
Save time and money when creating your schedule. View your course sequence and determine how long your degree will take to finish. Talk to your advisor to map out a plan that works for you.
Biologist
Chemist
Engineer
Geologist
Mathematician
Physicist
Physical therapist
Doctor
Veterinarian
Wildlife & conservation officer
Dentist
Computer programmer
Computer systems analyst
Web developer
Software tester
Desktop publisher
Network engineer
Cyber security analyst
Database administrator
Network architect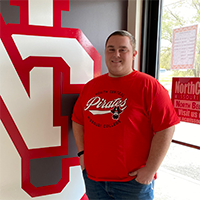 A PATHWAY FOR EVERY PIRATE
Choose from over 30 degree options in nine career and academic areas.