A cap and gown will be provided for you to wear. Attire under your gown should be appropriate to honor the dignity of the ceremony. Business wear is a safe choice. "Dressy casual" is also appropriate. Jeans, hoodies, sweatpants, sweatshirts, shorts, flip-flops and tennis shoes or sneakers are not appropriate.
Other tips-
Consider wearing something with pockets to carry your keys. Leave purses and wallets in the car. Dress for the weather. Wear footwear that is appropriate for the formality of the event, but also comfortable as you will cover quite a distance and need to stand for long periods of time. Bobby pins can assist in keeping your mortar board (cap) secure. Hang your gown in a steamy bathroom while taking a hot shower or smooth over with a warm iron to remove wrinkles. Do NOT get the iron too hot, as the fabric will scorch easily and may create holes.
Please arrive for line-up with your cap/gown/tassel on. Graduates will line-up alphabetically in front of Geyer Hall at 8:15 AM (morning ceremony) or 12:15PM (afternoon ceremony). When graduates arrive, they should line up according to the instructions provided by staff at Geyer.
IF there is violent weather, graduates will line up on the walking track in Ketcham.
Please see image below regarding seating. NCMC staff will be available inside the auditorium to assist guests. There will also be seating in the upstairs area, although areas of the walking track will be blocked.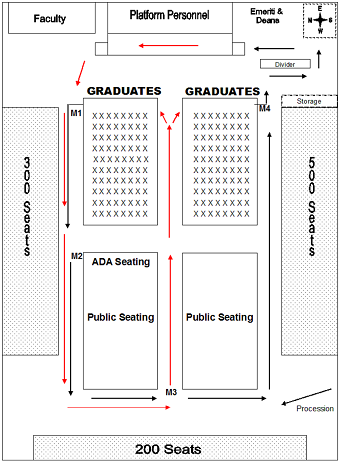 The Platform Party consists of representatives from across the institution. They may include: the Board of Trustees, the President, Administration, and College Governance representatives.
Marshals are faculty members who assist in leading students during the March and provide guidance during the ceremony. There are two Processional Marshals and two Recessional Marshals. Marshals are selected by the Faculty Senate and serve in a place of honor during the ceremony.
Full-time faculty is present during the Commencement Ceremonies. They will have various roles throughout the ceremony and congratulate the graduates upon leaving.
Emergency medical assistance will be on stand-by during the Commencement Ceremony. If you or one of your guests is not feeling well, they should report to the lobby area of the Ketcham Community Center. A staff member can assist them in contacting emergency personnel, if needed.
If any member of the campus community or visitor becomes aware of an emergency situation during the Commencement ceremony, they are encouraged to contact any College staff member to initiate the College emergency and crisis response plan.
Commencement is our most important celebration at NCMC! In support of our students and to recognize their accomplishments, as well as welcome family and friends, the Administrative Professional (AMP) Staff assist with the Commencement ceremony.