Digitized reference material is available 24/7. The NCMC library catalog will search through our books and materials that are located within our library in Geyer Hall on first and second floor. Our library collection is continually evolving to meet the needs of our students and faculty.  Explore the NCMC Library Catalog.
To request items that you cannot find within our NCMC catalog or KC TOWERS catalog, use the MOBIUS catalog to request your item from another library. The MOBIUS Catalog includes more than 34 million items. A courier service delivers library materials to member libraries, 5 days per week. Visit MOBIUS Linking Libraries.
KC Towers is a group of Northwest Missouri libraries and also Kansas City, Missouri libraries within the MOBIUS library consortium. The KC TOWERS Library Catalog is an online public access catalog that includes the collections of 14 libraries in our area. Search the KC-TOWERS catalog.
Digitized books are available 24/7. EBSCO provides access to NCMC library's ebook collection. Type in the nine digit studentID and student password to access ebooks off campus.  To view our ebooks collect navigate to 
EBSCO eBooks
.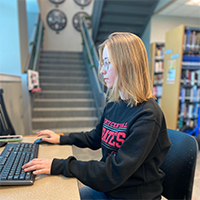 The Librarians can answer reference questions for you online. The service is available to all current students, faculty, and staff at NCMC. When sending a message please include your full name and email address.